For anyone who loves to play golf or simply enjoys putting around from time to time, the dream is to someday find yourself living next to a golf course. After all, who wouldn't want to live so close that the short ride in your personal golf cart would put you on the putting green or the front nine in mere minutes? If you're not a golfer, though, you might wonder if buying a home in a golf course community is a good investment. How much does a golf course increase home value? These are great questions! The good news is that having a golf course nearby can, in fact, increase your home's value. It's beneficial economically and aesthetically pleasing to live in a golf course community even if you aren't interested in the sport at all. Let's look at what makes a golf community such an inviting place to live!
What are the benefits of living in a golf community?
Of course, living next to a golf course comes with some obvious advantages. It's easier to stay in shape and enjoy an active lifestyle when you've got an opportunity for great exercise right outside your door. You won't have to go far when you want to get in a quick nine or play a round of golf with friends, neighbors, or work associates. Not only will you get plenty of exercise, but you'll have lots of opportunities to improve your game and reap some fringe benefits, including easy access to the nearby clubhouse restaurant and bar.
Even if you don't play golf, living in a golf community has its advantages. As we mentioned earlier, golf courses and surrounding properties are aesthetically pleasing. Imagine living in a community that's surrounded by beautifully manicured lawns and greenery, colorful flower beds, deep blue ponds, and other water features. Waking up and stepping outside each morning to see such incredible views will make you feel like you're living at a vacation resort. In addition, buying a home in a golf course community offers you access to exclusive additional amenities you won't find in a typical residential community such as golf club houses including pro shops and restaurants.
All of that makes a golf course community a great place to live, but it's just scratching the surface of why living next to a golf course can increase the value of your home. Let's be honest. A certain amount of prestige or cachet comes with living so close to a sport that so many people love. Plus, a golf course means more green space and more wildlife in your neighborhood.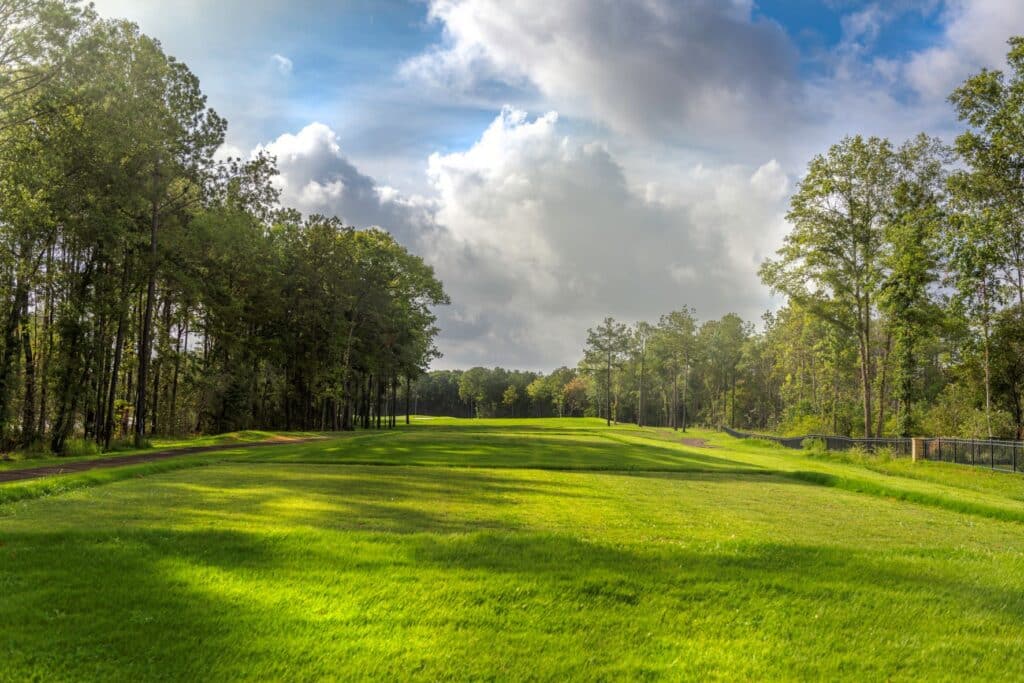 How much does a golf course increase home value?
Let's look at three key studies and their findings. First, research as far back as the 1990s by The Journal of Real Estate Finance and Economics has suggested that the presence of a golf course increased nearby home values by 7.6%. More recently, researchers at Florida Atlantic University looked at more than 10,000 property transactions in recent years and concluded that owning a property next to a golf course can add between 8% and 12% to a home's overall property value. And finally, a study conducted by the National Recreation and Parks Association returned even more promising results, suggesting that properties within view of a golf course may have property values up to 30% higher.
Do golf course communities perform better through downturns?
Any housing that is heavily associated with a major amenity will hold its value better during a downturn. Master-planned communities tend to perform better during times of economic hardship than other kinds of housing. In fact, the only real downside to living next to a golf course—at least, from a financial perspective—is the added burden that the course may put on the Homeowners Association (HOA). Fortunately, this can easily be alleviated by choosing to live near a golf course that runs on membership dues rather than being funded by the HOA—just like Highland Pines Golf Club is doing.
Highland Pines Golf Club is located within The Highlands master-planned community and is an 18-hole semi-private golf course that's professionally operated by Tour 18 Inc. Buying a home in a golf course community can be a great investment but, like any other investment, it's always a good idea to do your research before you buy.
If it sounds like The Highlands is where you want to be, all you have to do is fill out the form below and tell us what you're looking for in a new home. We'll put you in touch with our builder partners and, before you know it, you'll be moving into the home of your dreams, right next door to the green.