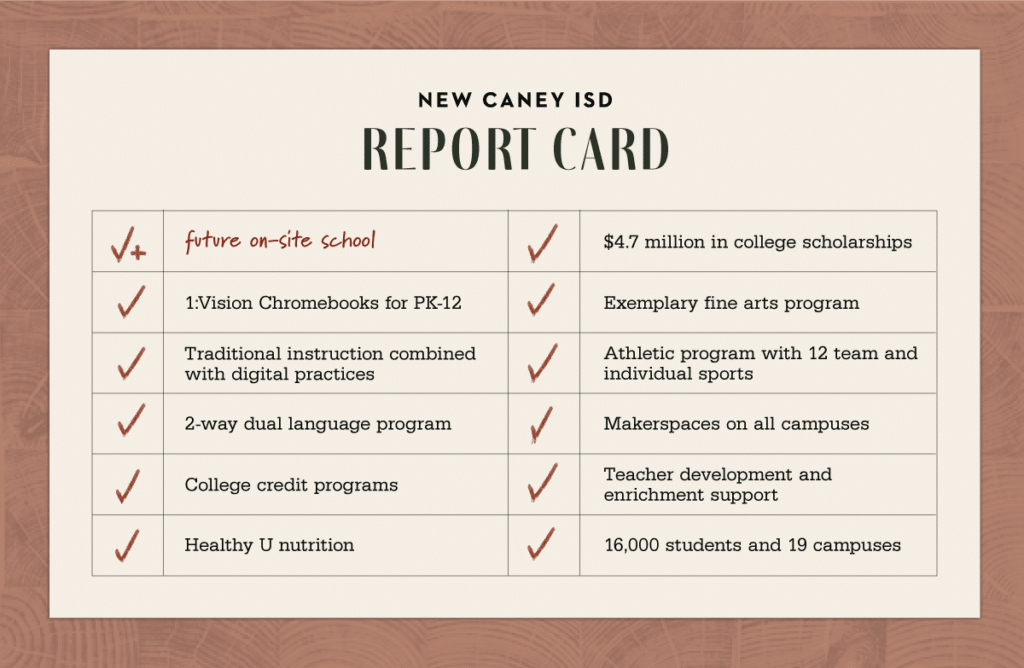 Nestled just 25 miles northeast of bustling downtown Houston in Montgomery County, New Caney Independent School District is considered by many to be a shining example of progress in education. With 20 New Caney ISD schools housing over 18,000 curious minds (and counting!), New Caney ISD is among the fastest-growing school districts in the state.
As parents here at The Highlands already know, New Caney ISD is more than just a school district. As a rapidly blossoming 5A district and a recognized Texas District of Innovation, it's a cornerstone of educational excellence in the Lone Star State. It's no wonder that so many families are eagerly snapping up homes for sale near New Caney ISD.
Under the leadership of Superintendent Matt Calvert, the district prides itself on its mission: To shape students into responsible citizens, effective communicators, and lifelong learners. To that end, the dedicated teachers at New Caney ISD utilize top-notch facilities to offer not only academic knowledge but also essential life skills and values so that children are set on a path to a bright and successful future.
The surge in demand for homes for sale near New Caney ISD is a testament to the district's commitment to high standards. Let's take a closer look at some of the schools zoned to New Caney ISD near The Highlands!
Robert L. Crippen Elementary School – Named for local Texas hero Robert Crippen, who was the pilot of the first space shuttle mission and a former director of the Kennedy Space Center, it's no wonder the motto of Crippen Elementary is "Reach for the Stars." In a community where life shines brighter, Crippen Elementary exemplifies this spirit. Offering classes from Pre-K through 5th grade, the school prepares students for a lifetime of learning through two-way dual language programs and initiatives that provide each student a Google Chromebook, setting them up for a technology-driven future.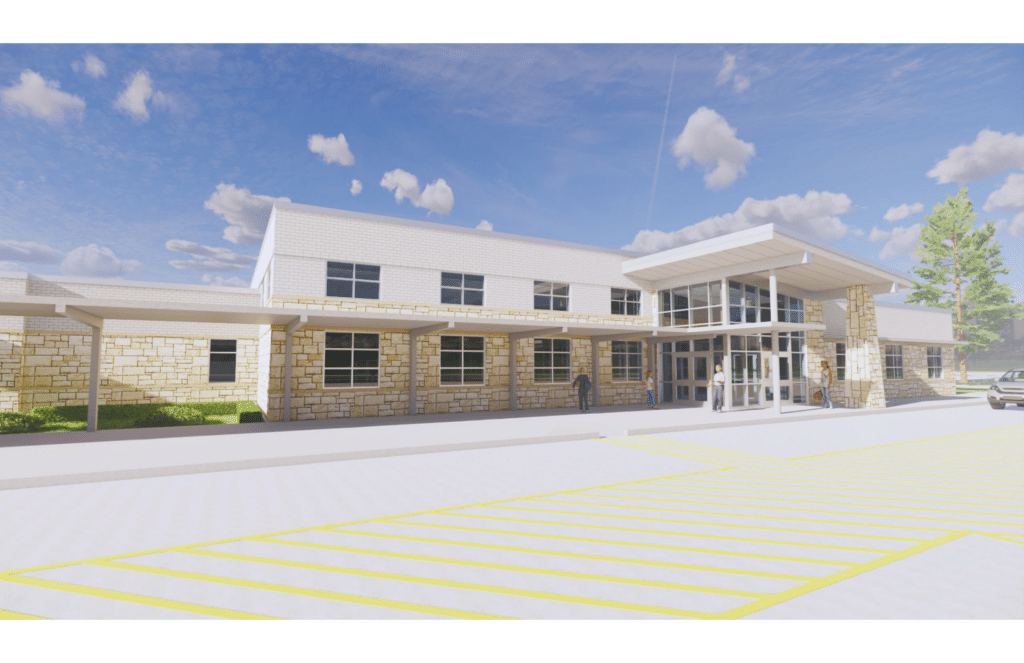 Highlands Elementary School – Opening fall 2025! We're so dedicated to the educational opportunities for our youngest residents that there's an onsite elementary coming to The Highlands very soon. Additionally, Highlands Elementary is also being set up as a STEM school, ensuring our kids are equipped for the future. This new onsite elementary zoned to New Caney ISD will bring all of the benefits we've already described, plus our children will be able to walk or bike to classes without ever leaving their own neighborhood!
White Oak Middle School – With academic, athletic, and artistic offerings, White Oak Middle School is prepared to meet young learners where they are and help them get where they need to be. Whatever your child's passion, they will find something to love at White Oak Middle School, from makerspaces that enable students to bring their ideas to life to digital practices that help students thrive in an increasingly online world.
Porter High School – Here at The Highlands, we know that high school isn't the end of anything. It's just the start of something bigger and better. We're especially proud to be located near Porter High School, home of the Spartans, and to celebrate the recent honor bestowed upon its Principal, Cesar Condarco. He was distinguished as Region 6 Principal of the Year for the upcoming 2023-2024 school year by the Texas Association of Secondary School Principals (TASSP). This award, given to remarkable leaders who provide high-quality instruction and demonstrate excellence in both student and professional growth, is a testament to the caliber of leadership at Porter High. With more than 30 extracurricular organizations and clubs, including a winning UIL Robotics team that scored high at the Texas State Championship in all 5 divisions and advanced to the finals in 2021, as well as college-credit courses that help put university-bound students ahead of the curve, Porter High is a stepping stone to great things, and it's the next step in your child's future.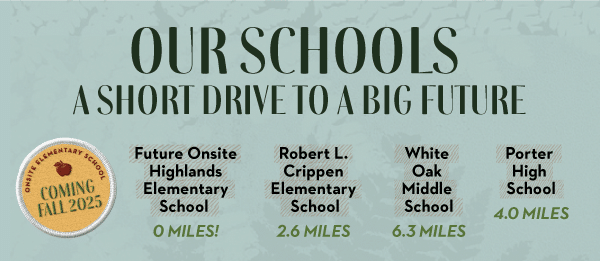 At The Highlands, our vision is to build communities that enrich the lives of the families who choose to make it their home. And for those actively searching for homes for sale near New Caney ISD schools, look no further than right here! Strong schools help to build strong communities, and here at The Highlands by Caldwell Communities, we value both. Upon completion, our 2,300-acre master-planned community will offer more than 4,000 homes from 13 award-winning builders. But that's not all. A house is just a house. A home is made by the people who live in it and the community that surrounds them. We bring you closer to world-class amenities, friendly faces, and all the beauty and adventure of the Texas landscape.
Sign up to learn more about The Highlands today!