---
Hello, my fellow park lovers! I wanted to share another way to make your next National Park road trip extra special – hit the open road!
Imagine making memories from the minute you leave your driveway. There are so many memory-making opportunities on your way to the big event. You can also find fun overnight lodging options along your route, including campgrounds, parks, cabins, etc. Many have fun amenities like swimming pools, s'mores by the campfire, hiking, star-gazing, and more for your national park road trips.
You can hit the road using your own vehicle or rent RVs, travel trailers, and sprinter vans in your hometown or fly into any city, rent one from a local retailer, and drive from there. Bottom-line, is you have a lot of options for hitting the open road!
How to Plan a National Park Road Trip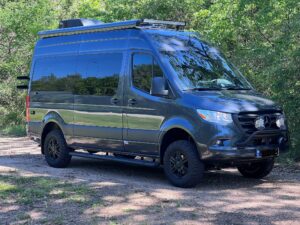 I personally like using the following apps for planning my National Park road trips:
They are helpful in mapping out the route for needs, such as highway restrictions for RVs, gas, food, and places to stop for the night on the way to the park. And then there is always the option to "camp" within a State or National Park!
Note: in order to camp within any National Park, you would need to reserve your campsite/RV space using Recreation.gov. This is the same site/ app you use when you need a timed entry ticket for parks requiring one or specific hikes as well.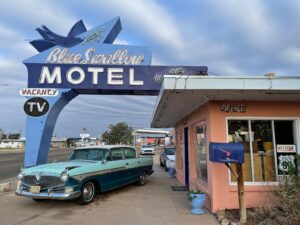 I find the difference when traveling by car or recreational vehicle is you have the option to stop and see some unique, quirky places along the way. For example, anytime you head west from Houston towards any of the parks in New Mexico, Arizona, California, or Utah, you can travel historic US Route 66, which has so many fun places to stop and see, like Cadillac Ranch in Amarillo, TX, a retro motel along historic route 66 in Tucumcari, NM, or the meteor crater in Winslow, AZ and so much more!
There are great online resources to search for fun things along any route. I like Atlas Obscura. There are also several apps that will narrate about the area as you drive through. One I've listened to is Hear Here. Additionally, the GuideAlong app will provide self-guided audio for your travels through the national parks. They even have the option to download the tour before you go if you don't have cell service in the area you are exploring. Many National Parks have great scenic drives, and some have fun off-roading adventures if you have the appropriate high-clearance vehicle.
It is so fun to explore and see what you stumble across along your route. I hope this gives you some ideas for some future adventures and encourages you to get out there and explore!
Safe travels! See you on the road!
Follow the trail to The Highlands and discover the bright life. Stay up-to-date on everything that's going on around The Highlands by signing up below!