If the last few years have taught us anything, it's that our homes should be places where we find comfort in our surroundings. They should be places where design, materials, and color help us to feel welcome and at ease whether we're sleeping, eating, playing, or working. This is especially important when it comes to new home trends in 2022 since many who are in the market for new homes right now are also spending more time at home than ever.
2022 New Home Trends
At The Highlands, we've partnered with 12 premier builders who blend design trends and timeless elements seamlessly together. See below for some of the top 2022 home design trends you'll see in our homes:
Lots of Marble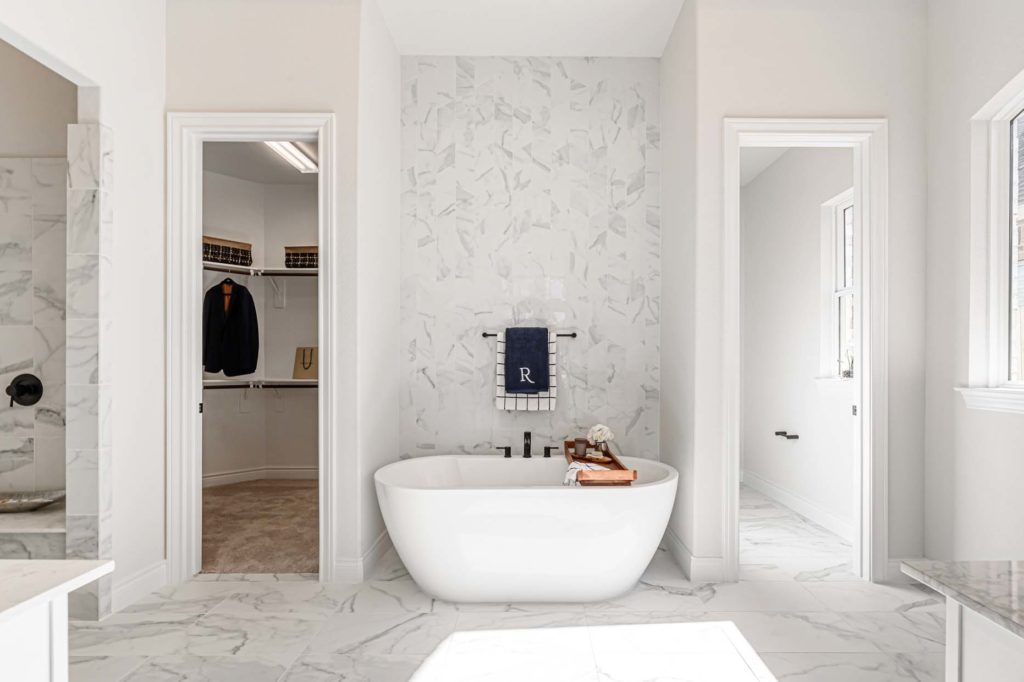 It's classic, beautiful, strong, and smooth to the touch. Marble can be dramatic when it's used as a slab countertop, a tile backsplash, a fireplace mantle, or a sink basin. It works in bathrooms and foyers just as well as it works in kitchens and living rooms! There's a reason we've been using marble to add a touch of class to our homes and businesses for centuries, after all, marble countertops and backsplashes are trendy elements that will withstand the test of time.
Shades of Green
Green is the predominant color in our natural surroundings and helps us feel a little more connected with nature, even when we're cooped up inside. Being surrounded by green helps restore our energy, and it reminds us of our place in the natural world. It's a color that's at once soothing and rejuvenating. It should come as no surprise that greens are being used more and more often in home décor and at The Highlands, we take it one step further by offering endless opportunities to connect with nature through a variety of amenities such as walking trails, a 200-acre nature preserve and more!
Natural Wood Cabinetry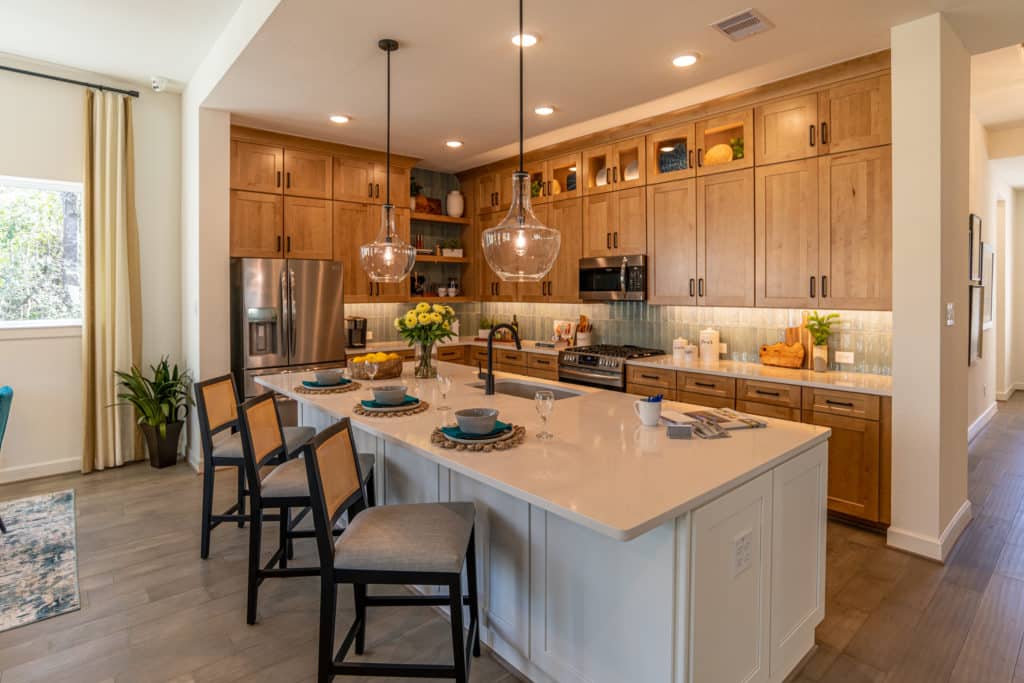 What better complement to those green hues than natural wood? Beautiful and durable, wood is the ultimate natural building material for cabinetry, and it offers so many varieties of colors, grains, and textures to choose from that you'll be sure to find one that you absolutely love. Plus, wood cabinets help increase the warmth and stability of your home's overall décor.
Accent Walls
For a few years now, accent walls have been an easy (and popular) way to add some spice to a room and create a feeling of additional space, even in the smallest rooms in your home. Accent walls are a great way to break up your overall color scheme, bring texture to the room, draw the eye, and create focus.
Versatile Work and Office Spaces
These days, this is a big one. Nearly half of us work from home in some capacity, and the need for versatile and comfortable home office spaces has never been greater. A comfortable and welcoming home office makes working from home more pleasant so that you can be more productive! Plus, kids can use the home office for doing homework or remote learning, too!
Model Home Summit
These are just a few of the top 2022 home design trends that you can find in inventory homes at The Highlands today. Join us for a very special kickoff event on April 9th, to celebrate 17 brand new model homes by 12 award-winning builders! For every model you tour during our April 9th event, or anytime during the month of April afterward, you'll be entered into a drawing for a trip to a U.S. National Park. Follow the trail to The Highlands and discover the bright life. 
---